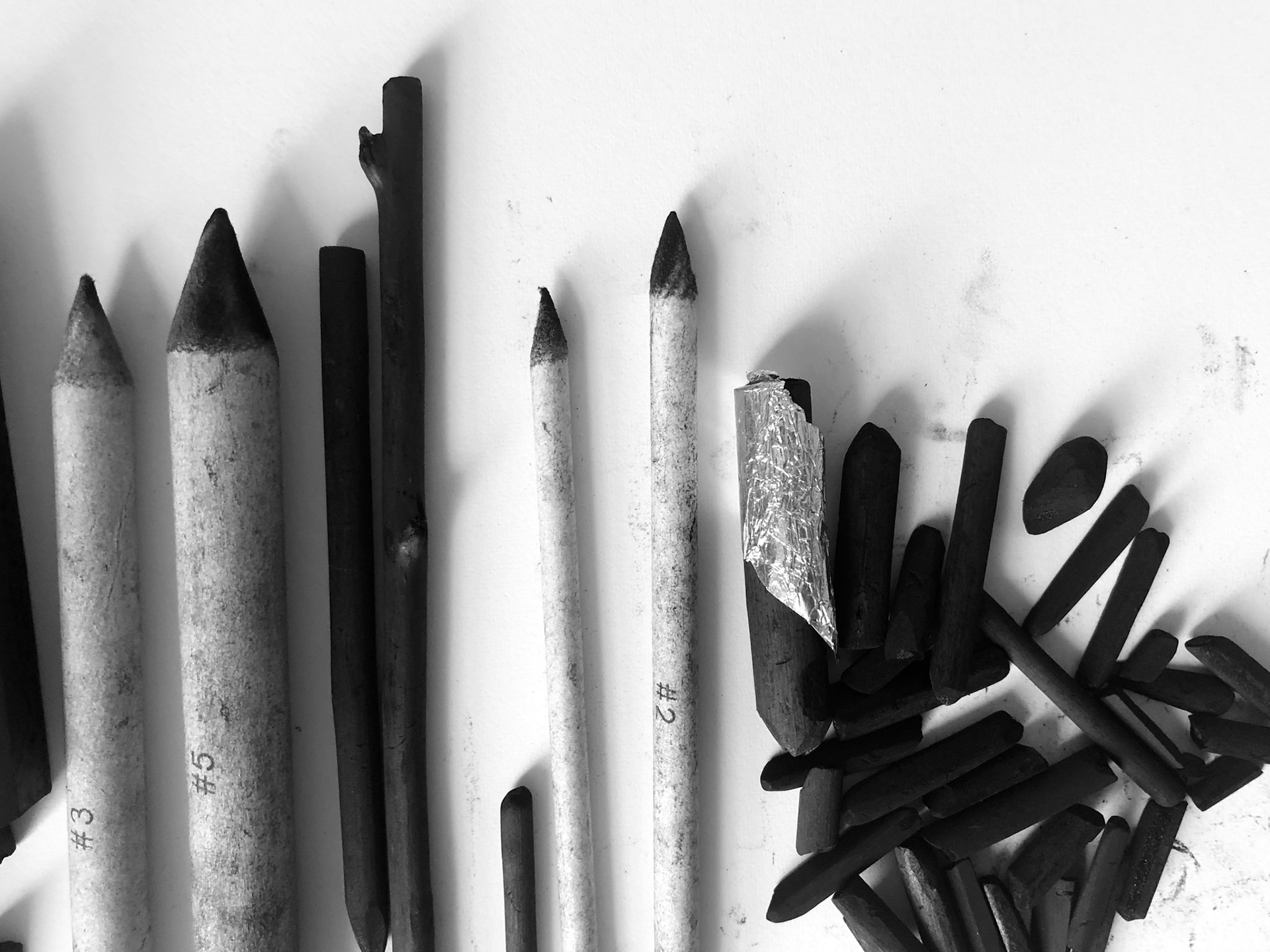 Eye to Hand is an observational drawing course taught by contemporary artist Genevieve Swifte. The workshop welcomes young artists from thirteen years of age, creative professionals, complete beginners and people with all levels of ability. Members of the community who have not had the opportunity to engage in formal art training are especially welcome to enrol.
Formally taught at the Ainslie Arts Centre, the course is going online during this time of social distancing. As such, some changes have been made to the structure of the classes.Please don't hesitate to get in touch if you have any questions.
Introduction to Observational Drawing
This four week course is ideal for new students, returning participants may like to explore my other workshops here.
The classes tend to be a wonderful mix of beginners, talented teens and experienced artists. The exercises are guided and flexible to accommodate all abilities and sensibilities. We develop fine motor and perceptual skills, approaches to mark making and the depiction of forms in space. We draw a wide variety of objects chosen for the transferable principals they convey and participants have the opportunity to draw together each week via regular Zoom meetings.
All of the exercises are carefully researched and are designed to:
• Help you see the world around you with greater clarity.
• Translate what you see from three dimensions into two.
• Heighten the sensitivity and dexterity of your hand, wrist and arm.

​​​​​​​
The course is perfect for new students — from beginners to advanced practitioners. Participants will have access to: 
• Guided observation and mark making exercises 
• A solid introduction to foreshortening and the depiction of forms in space 
• Expert feedback and support
Each week, participants will 

receive a password allowing access to course content that will be uploaded to the Eye to Hand website. This content will include:
• Zoom links scheduled for Sundays 2pm, Tuesdays 10am & Tuesdays 6pm.
Subtitles are being developed for all sound and video formats,

please indicate if you need this or any other support at the enrolment form below
.
Prices:
$180 full Price 
$162 Returning students 
$162 Concession (low income, students, seniors & group bookings)
Available payment methods:
PayPal / Bank Deposit
1. Please fill out the enrolment form below 
2. Hit
Submit
to send your details
3. Purchase your enrolment
Thank you! Please follow one of the links below to purchase your enrolment. I will then be in touch with more information via the email address provided.
2. Hit the "SUBMIT" button above to send through your enrolment form
3. Purchase your Enrolment

​​​​​​​
To finalise your enrolment, select one of the purchase buttons below. These will take you directly to a safe and secure PayPal checkout system.
You will then receive confirmation of your enrolment via the email address provided.​​​​​​​
*Please check the quantity and total before finalising your payment
*low income, students, seniors & group bookings
*Please note, numbers are limited. Due to the costs of production, cancellations must be made at least two weeks prior to the commencement of your course. Transfer to another workshop can be made at any time.
**By enrolling in any workshop with Genevieve Swifte, you agree that any media, passwords, documents etc provided as a part of a course will be kept for personal use only and will NOT be distributed to a third party.