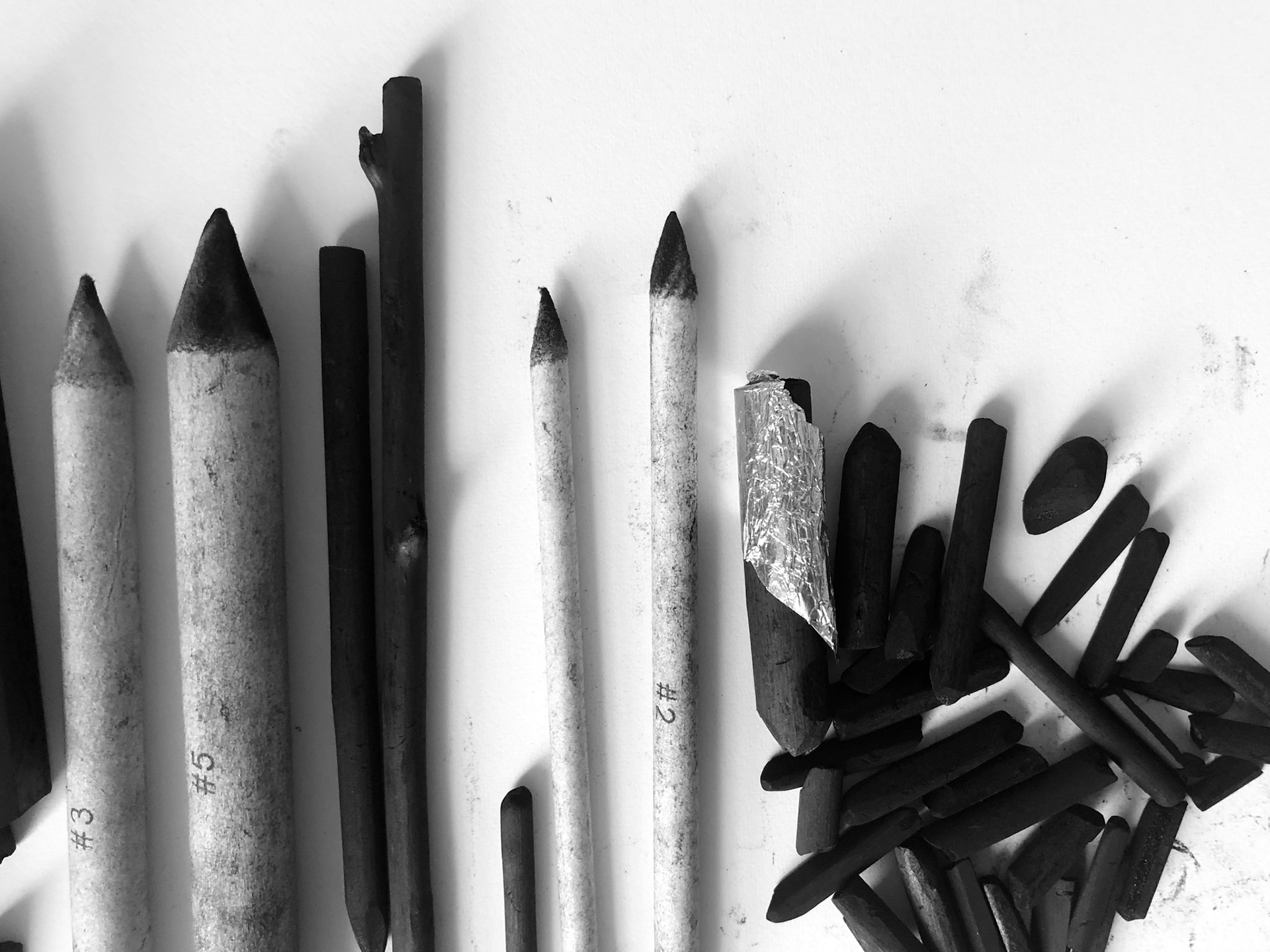 Eye to Hand is an observational drawing course taught by contemporary artist Genevieve Swifte at the Ainslie Arts Centre in Braddon, Canberra. The workshop welcomes young artists from thirteen years of age, creative professionals, complete beginners and people with all levels of ability. Members of the community who have not had the opportunity to engage in formal art training are especially welcome to attend.
The classes tend to be a wonderful mix of beginners, talented teens and experienced artists. The exercises are guided and flexible to accommodate all abilities and sensibilities. We develop fine motor and perceptual skills, approaches to mark making, value and colour theory, and the depiction of forms in space. We draw a wide variety of objects chosen for the transferable principals they convey and look closely at the work of a particular artist in the last weeks of the course. 
All of the exercises are carefully researched and are designed to:
• Help you see the world around you with greater clarity.
• Translate what you see from three dimensions into two.
• Heighten the sensitivity and dexterity of your hand, wrist and arm.​​​​​​​​​​​​​​
Details for Term One 2020
The workshop runs throughout the year in blocks of six weeks on Tuesday mornings and evenings, and on Sunday afternoons. Each six-week course covers new ground, it is possible to enrol at the beginning of any term and continue to build on your skills throughout the year (discounts apply for returning students). It is also possible to arrange to come on a different day if needed.
Sunday Afternoons 

(4 Places Left):
from 2pm – 4pm 
23rd February, 1st, 8th, 15th March, 
(skipping 22nd), 29th March & 5th April
Tuesday Mornings

(SOLD OUT)

:
from 10am – 12pm 
18th, 25th
February
,
3rd, 10th, 17th & 24th March
Tuesday Evenings
(4 Places Left)
:
from 6pm – 8pm
25th
February
,
3rd, 10th, 17th, 24th & 31st March
$270 full Price
$243 Returning students
$243 Concession (low income, students, seniors & group bookings)
Available payment methods:
PayPal / 

Instalments

 / Bank Deposit
Location:
Ainslie Arts Centre, Elouera Street, Braddon, ACT, 2612
1. Please fill out the enrolment form below 
2. Hit Submit to send your details
3. Purchase your enrolment
Thank you! Please follow one of the links below to purchase your enrolment. I will then be in touch with more information via the email address provided.
2. Hit the "SUBMIT" button above to send through your enrolment form
3. Purchase your Enrolment

​​​​​​​
To finalise your enrolment, select one of the purchase buttons below. These will take you directly to a safe and secure PayPal checkout system.
You will then receive confirmation of your enrolment via the email address provided.​​​​​​​
*Please check the quantity and total before finalising your payment
*low income, students, seniors & group bookings
*Please note, numbers are limited. Due to the costs of materials and insurance, cancellations must be made at least two weeks prior to the commencement of the class. Transfer to another workshop can be made at any time.