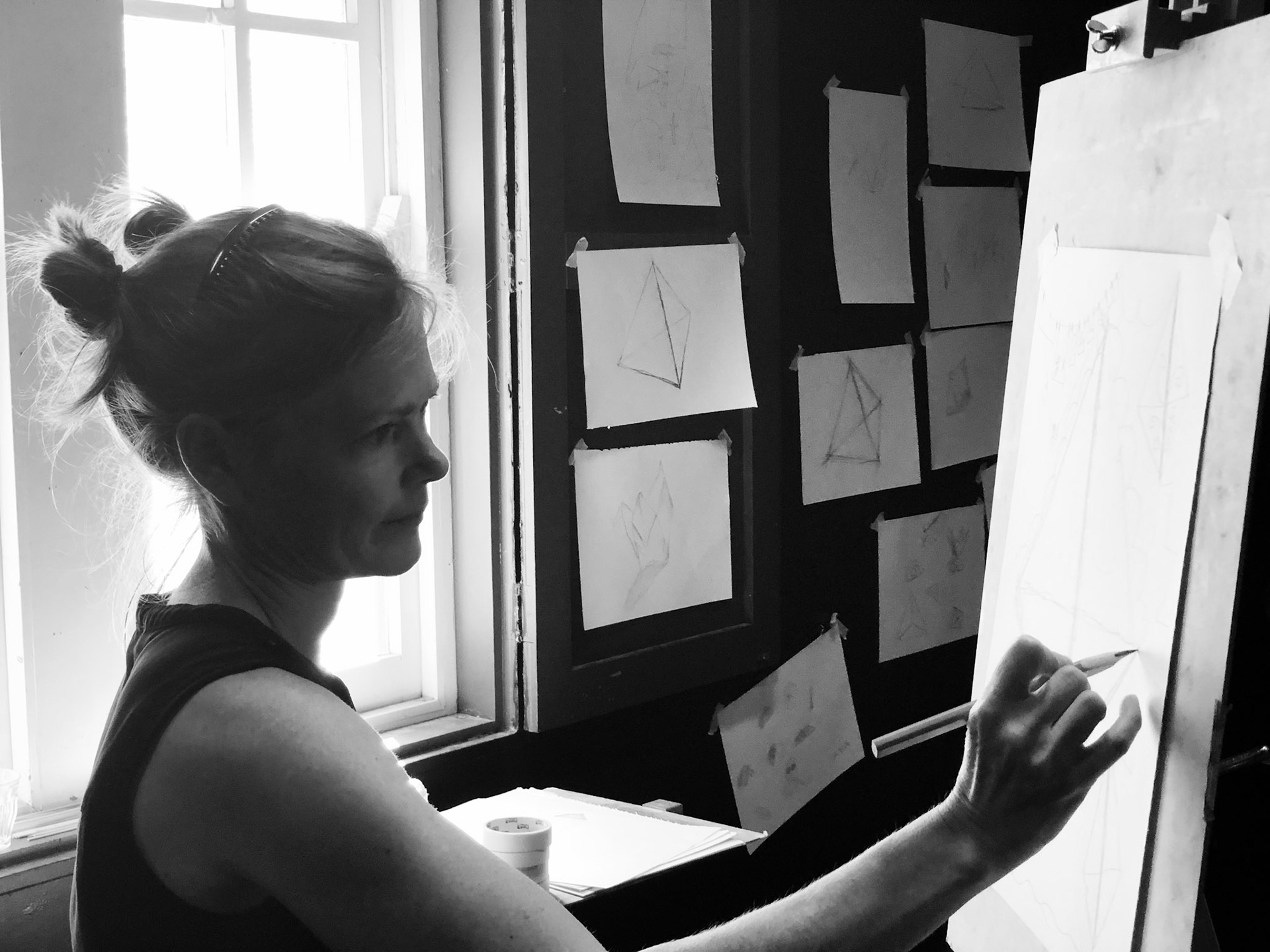 UPDATE: Mild weather is 

forecast

 for the 17th-19th. 
Due to the current bushfire crisis, the workshop will take place at the Gorman Arts Centre (not the Fitters Workshop as originally planned). 
C Block Theatre at the Gorman Arts Centre has air conditioning and other facilities and will be more comfortable should smoke and temperatures rise. 
​​​​​​​​​​​​​​
Please get in touch if you have any concerns via the contact form at the bottom of this page.
​​​​​​​
This January, join contemporary artist Genevieve Swifte at the Gorman Arts Centre in Canberra for an intensive summer drawing experience. 
From Friday 17th to Sunday 19th of January, Gorman's C Block Theatre will become an immersive environment for drawing, with an installation of inspiring objects – from drapery to bones, butterflies and geometric solids. 
Informed by her PhD research and 20 years experience as a practicing artist, Genevieve facilitates guided drawing exercises, teaches perspective and foreshortening, and demonstrates a wide range of drawing techniques and media. Participants have the opportunity to partake in group activities, explore personal projects and receive expert feedback. The workshop will support you to develop fine motor and perceptual skills, approaches to mark making, value and colour theory, and the depiction of forms in space. 
• See the world around you with greater clarity.
• Translate what you see from three dimensions into two.
• Heighten the sensitivity and dexterity of your hand, wrist and arm.​​​​​​​​​​
Welcoming young artists from thirteen years of age, creative professionals, complete beginners and people with all levels of ability, you are invited to enrol for one, two, or all three days of the workshop. 
​​​​​​​​​​​​​​
Please don't hesitate contact me if you have any questions – a contact form can be found at the bottom of this page)
Soft graphite pencils 
Compressed charcoal (soft)
Willow Charcoal
Kneadable eraser 
Hard/plastic eraser
*Paper and other materials will be provided
Prices
$185 One Day
$250 Two Days
$300 Three Days 
Returning Students/Concession
/Group Bookings:
$166 One Day
$225 Two Days
$270 Three Days
Available payment methods:
PayPal / 

Instalments

 / Bank Deposit
1. Please fill out the enrolment form below 
2. Hit Submit to send your details
3. Purchase your enrolment
Thank you! Please follow one of the links below to purchase your enrolment. I will then be in touch with more information via the email address provided.
2. Hit the "Submit" Button above to 
send through your enrolment form
3. Purchase your Enrolment

​​​​​​​
To finalise your enrolment, select one of the purchase buttons below. These will take you directly to a safe and secure PayPal checkout system.
You will then receive confirmation of your enrolment via the email address provided.​​​​​​​
*Please check the quantity and total before finalising your payment
Returning Students/Concession/Group Bookings:
*Please note, numbers are limited. Due to the costs of materials and insurance, cancellations must be made at least two weeks prior to the commencement of the class. Transfer to another workshop can be made at any time.